Combining writing with product design can make a difference, open new levels of creativity and innovation, and help us designers and our team achieve our full potential. It is a necessary component of product design that allows us to explore ideas better and articulate them effectively, leading to more successful products.
When it comes to creating apps, websites, and graphics, there are two types of designers – those who prefer user experience feedback, also known as storytellers, and those who like data and analytics, also known as quantitative. Both groups have good intentions but have different ways of collecting and analyzing information to make decisions. Combining these two approaches can lead to better products, regardless of which group to identify with. Writing can help storytellers and quants better understand users.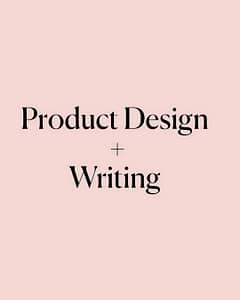 Why is Writing Important in Product Design?
Writing is essential to product design because it helps us focus on what is most important and forces us to think deeply about what we want to communicate by using simple and familiar language, short sentences, and active voice. We can explain the "why" behind an argument when we structure our text well. Strong and active writing forces us to think more reflectively, leading to a better understanding of what's essential and how everything is related.
Also, writing helps create a level playing field of ideas. How ideas are explained can lead to bias, and we can improve outcomes and product design decisions by evaluating the designer's words for quality, durability, and clarity. When we work as a team, each designer has a fair shot to provide ideas, and the best ideas deserve recognition.
Improving your writing skills is possible through consistent practice. Designers can outline what we want to communicate by experimenting with different writing methods. Also, drafting and completing Frequently Asked Questions (FAQs) about each product can help us refine our thoughts and focus on our product's vision.
In conclusion, writing can help storytellers and quants communicate their ideas effectively, avoid impulsive optimization, and build better outcomes. Writing is a valuable tool for improving product design, a skill every product designer should improve.
Wendy Cecilia Reyes