I'm happy with my recent discovery of the incredible skin benefits of manuka honey. Manuka honey is a natural product quickly becoming one of my favorites due to skin and health benefits. The healthy glow on my skin is due to weekly homemade facials masks adding manuka honey. I will forever keep a bottle of this raw honey in my bathroom cabinet.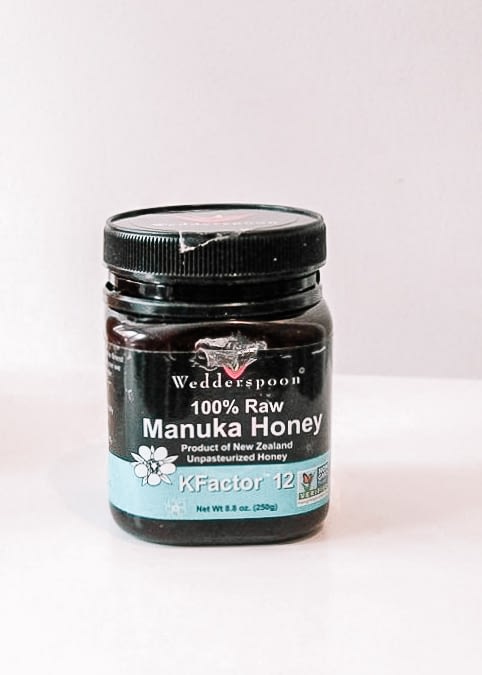 How to Use Manuka Honey for Better Skin and Body Health
I knew about the powers of regular raw honey. But manuka honey is something out of this world. It is a super-honey, and my skin has fallen in love with the first touch. I" m always researching ways to keep my skin looking naturally beautiful and with little makeup or preferably with no makeup.
What Is So Special About Manuka Honey?
My skin's beauty comes from healthy food choices—mostly organic food (no thank you, GMOs) and natural products. I spend my time researching before buying a new natural product. I try to avoid toxic ingredients at all costs. Because yes, we indeed are what we eat and consume. And the skin is an organ that absorbs everything we put into and send it to our bloodstream.
The rule is, if I can't eat it, then the chances are that it is probably bad for my skin as well. Isn't my skin my biggest organ? It feels fantastic to achieve naturally healthy glowing skin. Notably, with such wonder from mother nature as manuka honey, which corrects, repairs, and continually improves my skin. I'm a fan!
Research On Manuka Honey
After doing research and reading my favorite holistic beauty magazines, I discovered Manuka Honey. I asked friends and family, but very few knew or used Manuka. A friend confessed that she was allergic to honey and wouldn't try it. That's true; it shouldn't be applied to sensitive skin or someone allergic to honey.
Manuka is healthy honey with a high pollen count. It's Mother Nature at its best. Therefore, not every skin type can tolerate Manuka. Do a patch test before considering buying a bottle of Manuka.
Antibacterial Potential Of Manuka Honey
I was skeptical, plus the price is higher than regular raw honey. However, I discovered that manuka honey has four times the minerals of natural flower honey and is considered a perfect and beneficial natural skincare product. To me, that information was worth the investment. Here is why Manuka Honey is excellent: Manuka honey comes from New Zealand bees, feeding on the native manuka bush. An antifungal and antibacterial tea tree. One of the main reasons why this honey has so many remarkable benefits.
The real manuka honey is raw, unheated, and has higher therapeutic properties than regular honey. Reading labels at the moment of purchase is essential to get all the advantages. However, I discovered that manuka honey has four times the minerals of natural flower honey and is considered a perfect and beneficial natural skincare product. To me, that information was worth the investment.
Manuka Honey: Uses and Benefits
UMF is a rating used to measure the manuka honey on the amount of methylglyoxal. The test usually runs from a score of 5 to 20. A good Manuka honey needs to reach a rating of 12 minimum for significant benefits.
Manuka honey needs to be raw to work better. The difference is that natural honey has not been processed, heated, or pasteurized, making it waste a lot of the beneficial nutrients when exposed to heat. This honey keeps its vitamins and enzymes.
Is Manuka Honey Good For My Skin?
Younger Skin: It is a natural solution for radiant skin. Manuka honey protects against radical damages. Moisturizes and smooths. It helps with better moisture absorption. Also, it is full of antioxidants. Here is my favorite version.
Acne: Treat skin infections and acne. It is an anti-inflammatory. Balance the skin's pH balance. Contain amino acid. Slough away dead skin. It helps keep pores clear. Fight the acne bacteria from not coming back.
Anti-Aging: It inhibits a group of enzymes that destroy collagen. Full of amino acids. Produce healthy collagen for plump, firm, and youthful-looking skin. Also, it helps in the healing of scars. Many market versions are claiming to be original, but the critical ingredient is pollen count quality. I did not go for the best option due to how expensive that was.
The price tag was making me forget about trying this honey. Thankfully, I found 100% Raw Manuka Honey K Factor 12 with the essential ingredients enjoying the benefits: 100% raw, unpasteurized honey, Kfactor 12 (means higher Manuka pollen count), coming from New Zealand and Non-GMO. Buy it here.
Note: if you have a sweet tooth like me, don't try this honey. I mean, I ate the first bottle in a couple of days because I could not stop how freaking delicious it tasted.
The plan was to eat one spoon. The other scoop to create a facial mask. However, I treated myself with an extra spoon to eat, and then there was no honey for facial masks. Be stronger than me, and obediently use it on your skin only.
Manuka Honey Face Mask Benefits + How to Do It
How I Prepare My Manuka Facials: I start cleaning my skin. I have several ways to use manuka honey as a facial mask. My smooth and gentle facial mask requires just this honey on my face, and then I leave it for a minimum of 15 minutes.
Stress-Free Mask
Sometimes I mix it with a tiny drop of essential lavender oil to help relax and combat stress while repairing my skin.
Manuka honey
Lavender skin oil
Brighten Mask
The second and most efficient Manuka mask is when I combine lemon, brown sugar, turmeric, and manuka honey.
Lemon will brighten and clarify the skin
Brown sugar exfoliates and leaves the skin baby soft
Turmeric is a natural anti-aging
Manuka honey
Collagen Mask
Manuka honey increases collagen, moisturizes, and repairs the skin. I do not have sensitive skin, nor am I allergic to honey. Therefore, I could leave this mask for a minimum of 15 to 30 minutes. Then wash it off with warm water. Once dry, I use argan oil for a little massage down to my neck.
During workdays or on very stressful days, I use a small dab of this honey before bedtime for five minutes, then wash it off and add my regular organic oils and serum all over my face, neck, and breasts.
Manuka honey
Organic and serum oils mix: argan, vitamin E, Castor oil, coconut oil, almond oil, and shea butter
Proven Results of Manuka Honey on My Skin
After witnessing the incredible effects on my skin, I could not be happier. The skin benefits of Manuka honey will be one of those beauty secrets that I will extend to my future generation. Remember, beauty also means daily practice. I know it has tons of medical benefits as well, and I am looking forward to keeping myself learning more about its many properties.
For example, I saw the other day at my local pharmacy being sold as a healing patch for injuries. I need to search more and what it does to scars. I will keep posting about my new finds about raw Manuka Honey. Have you tried Manuka honey before, and if so, what do you think? And for what purpose? Please subscribe or share this post.
Results From Staying Natural
Better health and naturally glowing skin is the best self-love gift from you to you. Ever since I started this organic journey, I feel energized. The goal is to continue to take care of myself internally: nutrition and self-love. And that is the best beauty treatment because it gets reflected on the outside.
---
Wendy Reyes Vélez
*This page has affiliate links.
---
Check this post: The Classic Nail Polish For All Occasions
---
*Disclaimer: WendyCecilia.com uses affiliate programs, which means that if you click and purchase some items featured on WendyCecilia.com, I might make a commission. WendyCecilia.com uses third parties to develop these partnerships. I only recommend or endorse the products and services that I have personally tried or appreciate and feel would help readers. Affiliates or brands do not influence my editorial content. All opinions are my own and based on my taste and style. I am an Amazon Affiliates Associates, a Shopstyle Collective Associate, and a Reward Style Associate.