Morning Daily Rituals
A lesson I learned last year, depending on how we start the day, is setting the energy and tone for the rest of our day. The key is finding and creating healthy habits and learning to find choices that will remain in the long run.
My daily rituals include praying before getting up from bed. Pretty much, I say thank you for the blessings of waking up to a new day. A quick cold shower. Opening up the windows to welcome the fresh morning light.
Kitchen Habits: The first thing is to drink a glass of warm water mixed with lemon and one spoon of Organic Raw Apple Cider Vinegar. This drink helps detox the body before coffee. Then later, a cup of organic coffee with just one spoon of brown sugar. Then breakfast. Two hours later, after breakfast, I do a fresh green juice. A mix of cucumber, green apple, celery, spinach, chia, flaxseed, orange, and lemon. This juice boosts immunity and is the best antiaging.
Walking: I sleep better at night when I start my morning with a walk and enjoy the early sunlight. So I usually walk, listening to my favorite podcasts or playlists. I call these daily habits "My Morning Cup of Soul Therapy" because it feels valuable to gift myself this time alone before facing the world.
Supplements
Taking the right supplement is one of the best ways to improve your overall health. So let's talk about developing health changes and small conquered battles. Shall we?
Six years ago, I gave up alcohol as a personal choice and started incorporating new healthy changes into my picky taste buds. As a result, I became a daily fan of Hemp, Maca, Spirulina, Wheatgrass, Chlorella, Moringa, Turmeric, Chia seeds, Flaxseed, Bee pollen, and many other wonders from nature.
Small Changes That Lead to Lasting Healthy Habits
I replaced my regular sugar with organic stevia or brown sugar. And common salt for Himalayan salt. I reduced coffee from three daily expressos to just one regular cup in the morning, teas, and one Matcha latte in the afternoons. I stopped drinking cow milk, and instead, I found a healthy replacement, drinking oatmeal and coconut milk.
I currently talk about raw Apple Cider Vinegar, Turmeric, and Coconut oil, as if I'm talking about my childhood buddies. However, I'm now a lover of anything with the word "berry" (is your name Berry too? Heyyy, we got to talk.)
Healthier Every Day
My conversations became fluent with words such as outdoor, vitamin D, and mother earth. The words "organic fruits" bring me pure joy and happiness in the middle of an aisle at Trader Joe's. Baking soda, lavender, and raw vinegar combined become an excellent disinfectant to clean everything at home.
Spearmint, dandelion, hibiscus, ginger, goji, and peppermint tea gives me superpowers. And my mom's chicken soup recipe is the best defense against flu symptoms.
Daily Habit Changes
The bottom line is that six years ago, NONE of these changes were present in my life. And these healthy changes made a big difference in my energy and overall health. Small changes can make a difference in people's lives.
What's In My Cabinet: My Favorite Supplements
These are my favorite daily supplements. I could write forever about the benefits. But instead, I'll give you a quick introduction and review. Like always, these benefits are based on my OWN PERSONAL research. Before trying a new supplement, always consult your doctor before. Some of these supplements might stop other medications from working.
Hemp
Hemp: As a supplement, it contains minerals, protein, and fiber. It's one of nature's plant-based proteins. Vegans love hemp. It has 20 amino acids and is loaded with healthy fatty acids. It helps combat fatigue and improves the immune system. Also, since it includes the right amount of protein, hemp boosts metabolism and increases fat burning.
It contains linolenic acid and omega-three fatty acid, which helps prevent coronary heart problems. Hemp is a high fiber food, naturally lowers blood pressure, and is recommended for osteoporosis. It helps clean the colon by containing soluble and insoluble fiber. And helps reduce toxins and constipation in the body. Also, combat sugar craving (my number one enemy) and boost the immune system.
Is Hemp a CBD?
What is hemp? It is scientifically called Cannabis Sativa. However, hemp is the part of the plant considered healthy, safe, and highly recommended for overall health improvement. I started adding hemp powder to my smoothies several years ago after I got sick. In the beginning, I used less than the recommended amount.
Of course, each person is different. Currently, I don't take medications of any kind. But people taking medication need to be cautious. Hemp may reduce the effectiveness of medications, and like any other supplement mentioned in this post, consult your doctor before consuming hemp for the first time. I did my research and spoke with my doctor, and that should be the first step before incorporating anything new into your diet.
Maca
Maca: As Beyonce said, "Ladies, let's get in formation." Maca regulates hormonal balance, improves fertility, and increases libido. I love it. I add Maca to everything. Instant oatmeal? Maca. Banana Bread? Maca. Homemade cookies? Maca. Smoothies and protein shake? Maca. You get the point.
What Are The Benefits of Maca?
Maca has minerals like zinc, iodine, and essential omega-3 fatty acids to support brain function, stabilize analytical and cognitive skills, and is a fertility enhancer due to its ability to increase the luteinizing hormone pituitary gland. The hormone is associated with fertility.
Maca is famous because it also helps with sexual dysfunction in both men and women. Increased virility boosts men's testosterone levels and prostate health due to amino acids regulating healthy hormonal balance. I don't know much about the full benefits for men. But for women, the combination of Maca, Chaste berry, plus Shatavari is "Oh, so powerful…." Of course, everyone should research according to their own needs before trying a new supplement. What works well for me might not work well for others.
The benefits of Maca stimulate more than the imagination. So go ahead and sprinkle Maca like glitter into your daily diet.
Spirulina
Spirulina: It's a blue-green alga with powerful nutrition benefits. I started using Spirulina due to its advantages in helping the body detoxify from heavy metals. In a world with Wi-Fi emissions, cellphone radiation, and pollution. It seems necessary to invest in a supplement to eliminate arsenic toxicity. Spirulina turned out to be fantastic in that aspect.
What Is Spirulina Good For?
Among other benefits: Spirulina as a supplement also lowers blood pressure, reduces cholesterol, decreases the chance of stroke, boosts energy, speeds up weight loss, and alleviates sinus issues. Furthermore, historians establish that The Aztecs in Mexico highly used Spirulina.
Wheatgrass
Wheatgrass: It's a supplement loaded with amino acids, and edible grass is considered a superfood because it is high in chlorophyll.
What Does Wheatgrass Do To Your Body?
Wheatgrass cleanses the liver and helps detoxify the body. Rich in iron, vitamin A, C, E, and selenium. Chlorophyll promotes proper metabolism, balances hormones, and helps with blood sugar regulation. I use it combined with Spirulina by adding them to my morning green juice.
Moringa
Moringa is a supplement rich in healthy antioxidants and comes from the Moringa tree. A tree from which all parts are nutritious. The Moringa leaves are an excellent source of minerals and vitamins, like iron, magnesium, protein, riboflavin, vitamin A, vitamin B6, and rich vitamin C.
Moringa is rich in antioxidants, which help battle and prevent chronic diseases. In addition, it contains quercetin, which helps lower blood pressure and provides chlorogenic acid with moderate blood sugar.
What is Moringa Good For?
Moringa reduces inflammation and maintains diabetics' lower sugar levels based on animal studies. But the main reason why I started using Moringa is that it protects against arsenic toxicity. We all face problems with our modern daily habits and how food is processed (GMO, anyone?).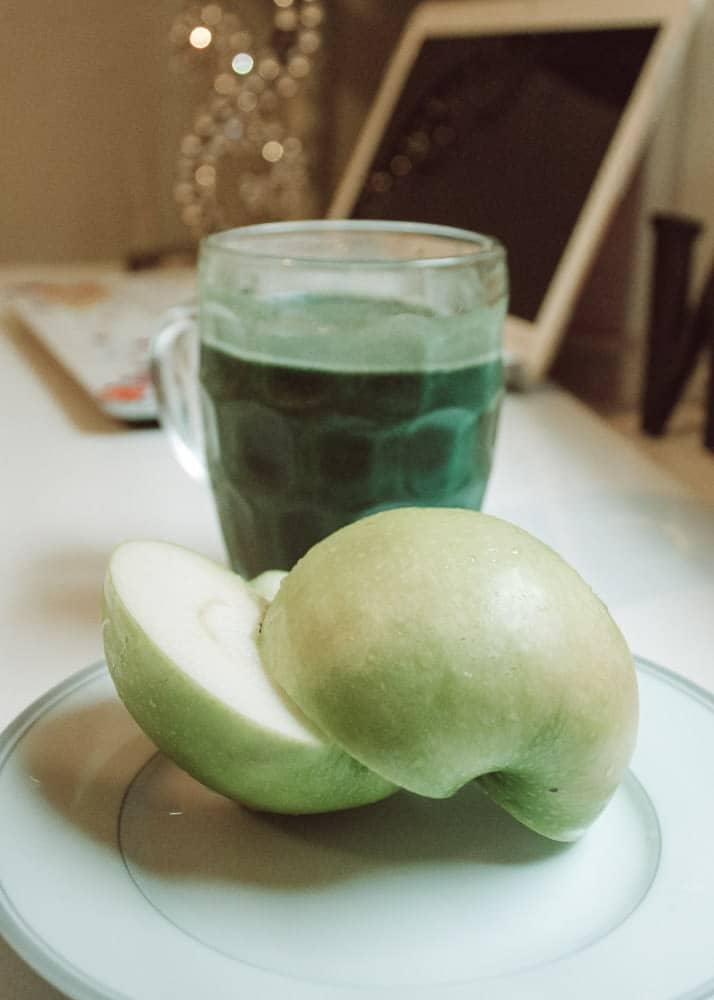 Healthy Superfood Smoothies
Smoothies are the best way to apologize for all the daily toxins in our bodies. It provides a mixture of organic yoga and meditation inside my stomach. Ha!
The ingredients below should be prepared as a self-appreciation for everything we put our bodies to endure. Everything we need is inside us. Or in our kitchen. I used to think the star of the kitchen was the stove. But after getting sick a couple of years ago, I became obsessed with my recovery and became educated about nutrition and the natural healing of my body.
I quickly discovered that the juice blender is the real rock star and emergency doctor in the kitchen. It could transform a garden of green veggies and colorful fruits into a glass of regenerative DNA, awesomeness, self-love, body respect, secret miracles, and cell repair weapon.
Yoga Inside My Stomach
Do you recognize a Superhero? Maybe the blender is the secret fountain of youth. Then, perhaps, we might be able to prevent our extinction with one smoothie glass per day.
Below is my favorite recipe for my daily smoothie. *Warning: You might smile more and feel that you now carry a superhero Cape after drinking this elixir. Ha!
Ingredients (Favorite Smoothies)
Blueberries: Improves memory and cognitive problems and protects the heart.
Grapefruit – protects against colon cancer.
Green Apple – Healthy regulation of fat blood levels.
Chia – Decrease cholesterol levels and control weight problems.
Ginger – Alleviate symptoms of gastrointestinal distress.
Pineapple – Anti-inflammatory, digestive benefits, antioxidant protection, immune support. Help prevents the common cold.
Baobab – More vitamin C than oranges, boosts energy and alertness, reduces acidity, is rich in electrolytes, and reduces fatigue.
Maca: Balances hormones, improves libido, improves fertility, improves menstrual irregularities, improves moods, and reduces anxiety.
Acai-berry – cut the risk of heart disease, Alzheimer's, and cancer. Provide radiant skin, reduce aging, calm inflammation, prevent and reduce muscle pain, and boost the skin's natural protection against solar radiation.
List of Ingredients
All opinions are based on my personal research trying new organic products to improve my health and stay healthy in the future as a preventive measure. We are all different; consult your doctor before trying any new supplement. Some of these high supplements may interact with medications if you take any. Do your responsible reading and make sure it is okay for you to take them. Be well, and stay naturally healthy.
Please comment, share or email this post to a friend. Thanks for your support!
---
Wendy Reyes Vélez
*This post contains affiliate links.