I miss my relaxing vacation days at the beach at Barcelo Bavaro Palace Deluxe Hotel Punta Cana in the Dominican Republic. My mornings were simple but also quite spectacular. I'm not a morning person during winter. But during summer, I never want to miss a sunrise.
A Beautiful Morning Ritual In Punta Cana 
My room was in front of the garden with partial views of the ocean. Deliberately, I would leave the curtains on the balcony half-open at night so that I would wake up with the early sun and natural light.
After a shower, the first thing was to turn on the coffee machine in my room and prepare my coffee just the way I like it: dark, strong, and made in DR. Of course; I had the option of calling room service to order a cup coffee if I ever wanted. But I immensely enjoyed the ceremony of making coffee quietly while the entire hotel was still sleeping during the early morning hours and silence.
The next step was to walk into the balcony with fresh coffee in hand to welcome the day in peace and with a smile. The sun and sounds announced the welcoming of the day magnificently. I had the privilege of opening my eyes to a new day with such beautiful colors and the sound of the beach. A calming sound was saluting me with the promise of a beautiful day.
The Room
My bedroom was a garden view with a partial ocean view. The panoramic in front of me was a perfect green landscape with the birds greeting the morning. And towards the end of the garden, the beginning of the beach with the most glittering blue-green water in motion. I was all smiles and happiness barefooted on that balcony each morning with fresh coffee in hand.
Each morning, waking up in that room was an abundance of pleasure to my senses, which filled me with content and joy. It always felt like the many forces from nature would align to thank each other with reverential sounds and movement. And I was standing there, a quiet witness of awesomeness with coffee and messy hair.
A Walk On The Beach
The morning walks on that beautiful white sandy beach filled my heart with gratitude. I'm always full of joy at the beach. And I observed how easy it was for everyone else to smile. Sincere smiles and without effort. Just a permanent facial gesture that probably said: "I'm happy to be here and not at the office." Ha!
---
Shop The Post

---
Imagine if we all had the opportunity to live our daily lives as we act during vacation mode. Unguarded, unpretentious, without an agenda or sometimes even a dress code. My hair was a wild curly mess in the mornings, just a swimsuit and a book. Nothing else, no shoes, no accessories, and especially no need for cell phones. Only a tiny camera on occasions because mother nature needed to be captured to be enjoyed in the future.
Details about Barcelo Bavaro Palace Deluxe Hotel:
The Dominican Republic is a 3.5 hours flight away from New York to Punta Cana. I stayed for a week at the all-inclusive Barcelo Bavaro Palace Deluxe Hotel and enjoyed perfect weather. It is a big family hotel with plenty of accommodations, several amenities, and an excellent spa. It has miles of soft white sandy beach, and the water is a beautiful mix of greenish-blue.
I searched for the best deal through Expedia.com, and I was able to get roundtrip flights, airport-hotel-airport transportation, and the Junior Suite at an affordable price. Click here to make the same reservation.
Details on The Accommodations:
My bedroom was lovely, and it was pretty spacious. It felt more like a studio apartment. The decoration was calming and beautiful, and it welcomed me back home. This room embedded the relaxing beauty of my born country.
The decoration was a mix of bright tropical colors. The room was big, with many amenities, and the balcony had a jacuzzi. The bathroom-bedroom concept was open space, as most hotel rooms in the Caribbean. And it had a rainfall shower, my favorite. Each night, I enjoyed a warm rainfall shower before bed, and I used to fell asleep like a baby. Ha!
There are several bedroom plans according to budget. Usually, I try not to book a standard room and invest in an upgrade. My bedroom was a Junior Suite located on the third floor. With views of the garden and ocean.
Details on The Restaurants:
Now, let's talk about food. The food was all right. I'm a picky eater, and I don't try all the restaurants. My favorite was the buffet because I craved local Dominican food, and that's where I found the most variety. In New York City, I can eat food from all over, but I skipped the theme restaurants and stayed with local food while in DR.
---
Shop The Post

---
The advantage of the specialty restaurants at Barcelo Bavaro Palace is that those tend to be more "gourmet" than the local buffet options. Meaning familiar food choices as Asian, Italian, French, or Mexican menus.
There Are Several Restaurants and Bar At Barcelo Bavaro Palace Deluxe:
Miramar: International buffet restaurant.
Bohio Dominicano: Dominican buffet restaurant and where I was eating almost every day.
El Coral: Seafood restaurant. Words for you: crab-legs and lobsters.
Santa Fe Steak House: A la carte meat restaurant with a wine cellar.
La Dolce Vita: A la carte Italian restaurant.
Mexico Lindo: Mexican restaurant with colorful and beautiful decor.
Kyoto Japanese: Sushi and an Asian fusion restaurant. Meals are prepared at a teppanyaki table.
La Fuente: Spanish restaurant, tapas bar, paella, and the best wines at the hotel. My favorite night-time restaurant.
La Comedie: French restaurant with a wine cellar, exclusive to the premium level guests.
19 Hole: Restaurant located near the golf course.
Sports Bar: American-style restaurant. You'll be able to watch sports all day or play pool table.
Bars
Las Olas: Bar near the water park.
Carey: Lobby bar.
Coffee Rum & Cigar Lounge: Bar near the lobby. Specialty rums and cigars.
Coco: Bar near the main swimming pool.
Cielo: Bar near the adult swimming pool.
BlackJack: Bar near the casino.
Bambu: Pool-bar near the club.
Romantic Dinner
This is the Barcelo Bavaro Palace Hotel location assigned for a romantic dinner among couples. Be subtle with your boyfriend/husband/partner at the moment of check-in at the hotel and "innocently" inform him that it would be an excellent idea for a reservation (wink). It is very romantic. He'll love it too. Ha!
Details on Barcelo Bavaro Amenities:
Pools: 4 swimming pools, including an Olympic pool and a water park for kids.
Spa: If you are a fan of spa life like me, you will enjoy the relaxing options. The hydrotherapy pool inside the spa is heaven.
Sports Activities: Golf, fitness center, soccer field, baseball field, tennis court, beach volleyball, water polo, aerobics, tennis table, and pool table.
Water Sports: Windsurfing, kayaking, scuba diving, pedal boats, sailboats, catamaran, and snorkeling.
Snacks: Open 24 hours.
Night-time: 11 restaurants, casino, adult club, teenage club, and theater.
Beach: White sandy beach, turquoise water with plenty of chairs, and a nearby beach bar.
Others: Train service around the hotel, church, wedding services, barbershop, beauty salon, dancing, Spanish lessons, bowling alley, shopping center, convention center, and a heliport.
Additional Services: 
Horseback riding, party boat, Wi-Fi access, private dining room, babysitting services, catamaran getaway, professional scuba diving classes, glass-bottom ride, banana ride, parachuting, speedboat, local excursions, and more.
By the way, check out Altos de Chavon Village and add the visit as an excursion. A charming replica of a 16th-century village, seating above the river Chavon. It was designed by an Italian designer and a Dominican architect and is a famous spot for stunning weddings and outdoor concerts.
---
Shop The Post

---
Being near water makes me happy and rejuvenates my soul and body. I did several excursions involving water, that no wonder I came back feeling brand new and calm after this vacation. I enjoyed staying at this hotel. Book your reservation HERE.
Tips for Booking an Affordable Vacation to Punta Cana:
The best part is that all-year-round the weather is warm, with average temperatures around the 80s.
December through February:
It is full season and highly-priced. Dominicans go back to the country in masses during the holidays to spend time with the family. And most tourists travel to escape the cold weather and enjoy the warm temperatures and beaches.
Hotel accommodations are over-booked and pricey. Following the Christmas and New Year's Eve holidays, the Dominican Carnival Festival later comes in February. Book in advance.
March through May:
My favorite time to visit is Spring and probably the less crowded. No holidays. No carnival. Most tourists are planning their next vacation during the summer when the kids are out of school. The weather is perfect, and the beaches feel peaceful since there is less of a crowd. Beaches are quiet, as long as you avoid the Easter week.
Semana Santa (Easter week) is when Dominicans take back ownership of the beaches and spend time at the shores. So naturally, it gets crowded during that week. After June, the Dominican Republic and the rest of the Caribbean islands start going through the hurricane and tropical storm. Still, chances of an early hurricane during these months are rare.
June through August:
I recommend traveling from June to August. It is the beginning of the storm season, but the risk of a hurricane is still low. However, it's full summer weather mode, which means temperatures might be above 85 to 90 degrees.
September through November:
This is the off-season, and when you'll be able to find the cheapest offers to visit Punta Cana, but also the season for hurricanes and tropical storms. So if you want to save some money while enjoying the Caribbean, try booking during the first week of September. The best month when it comes to helping your budget and enjoying good weather.
---
The Verdict: I recommend Barcelo Bavaro Palace Deluxe Hotel in Punta Cana for a beautiful and affordable all-inclusive vacation in the Caribbean. Perfect for solo traveling or the whole family. (Note: All opinions are my own and based on personal experience. The hotel did not sponsor this post.)
Please comment, share or email this post to a friend. Thanks for your support!
---
Recommended: Check out this hotel for a local and affordable waterfront vacation in New Jersey and a quick getaway near NYC.
---
Wendy Reyes Vélez
*This post contains affiliate links.
---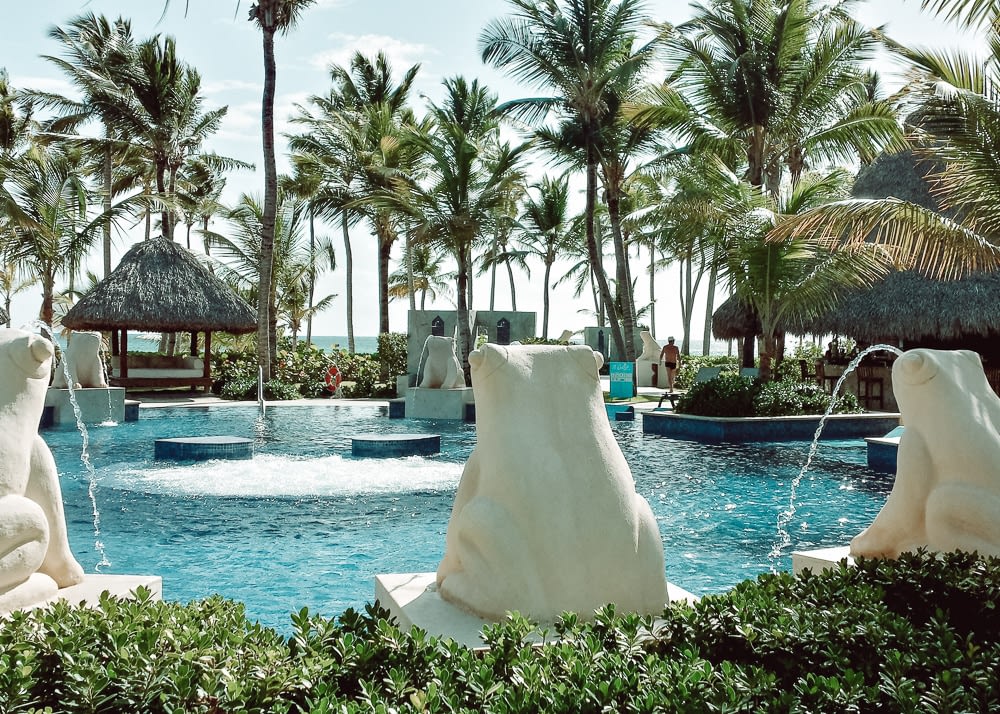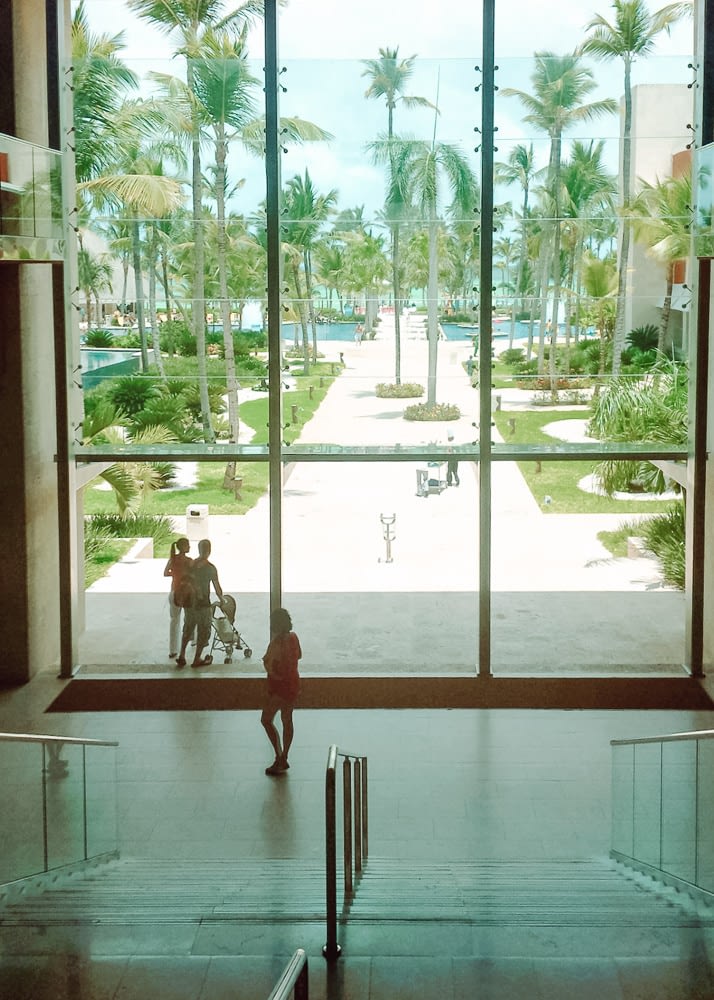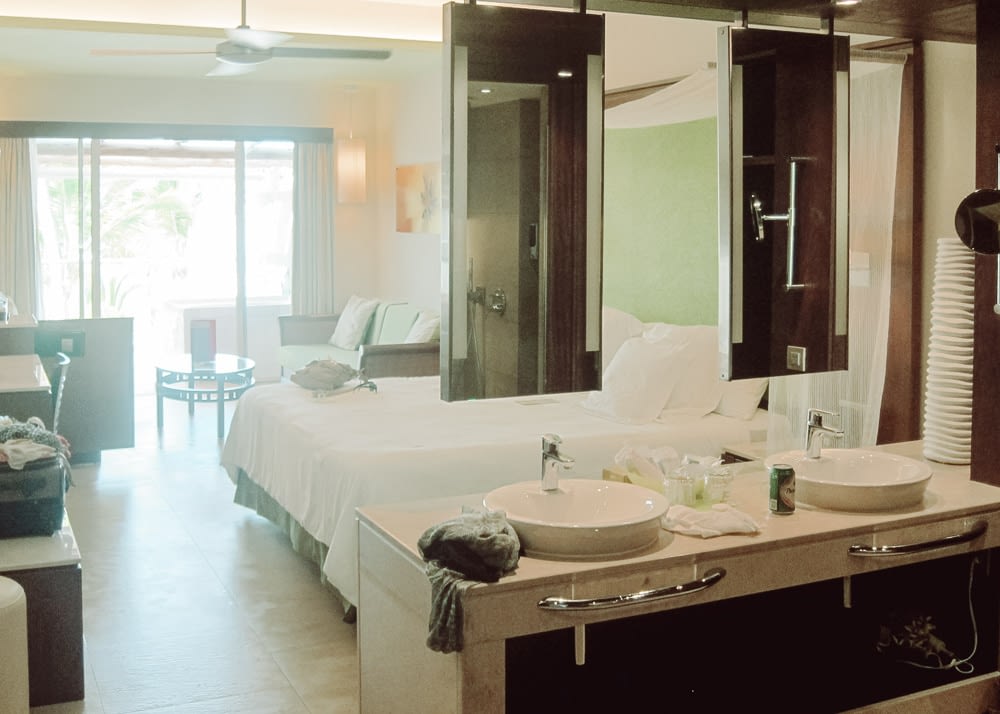 ---
*Disclaimer: WendyCecilia.com uses affiliate programs, which means, if you click and purchase some items featured on WendyCecilia.com, then I might make a commission. WendyCecilia.com uses third parties to develop these partnerships. I only recommend or endorse the products and services that I have personally tried or appreciate and feel would help readers. Affiliates or brands do not influence my editorial content. All opinions are my own. My big affiliate partners are Amazon Associate, Shopstyle Collective, and rewardStyle.